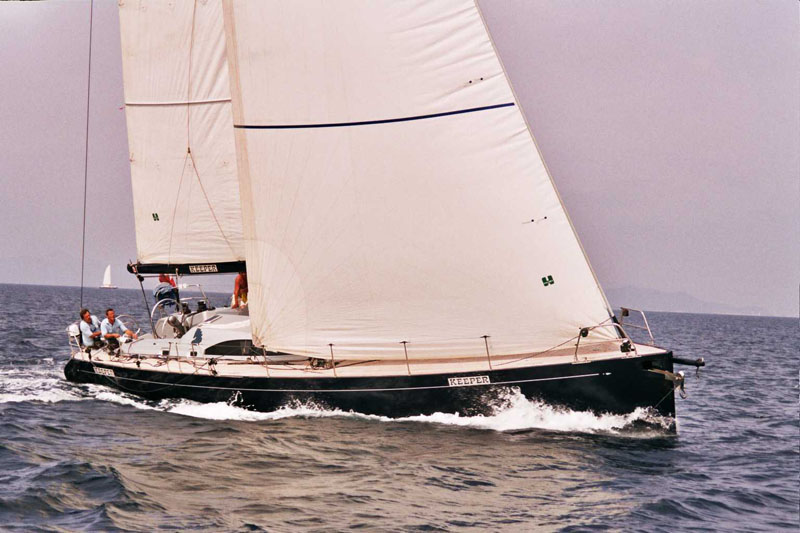 GENERAL
Name

Gemini 52-Med Quinto Polillon
Model

Gemini 52-Med

Year

2004

Hull material

GRP

Located

Murcia

Price

PRICE AT REQUEST

VAT

NOT PAID

Flag

french

Type

CRUISER

Slogan

.

Description

Hull Material: Composite, Kevlar, Carbono.
DESIGN
Builder

Gemini Yachts Srl.

Designer

Sparkman & Stephens.
DIMENSIONS
LOA

16.00

m

LWL

14.10

m

Beam

4.55

m

Draft

2.60

m

Ballast

6.500

kg

Displacement

15.400

kg
ENGINES
Engines

Yanmar 125 C.V.

Engines notes

Motor YANMAR 4JH-3DTE 125 cv. with battery of 100 Amp/h and 12 volts. Inversors hydraulics stainless steel shaft 17/4PH. Propeller MAX-PROP three folding shovels and 60 cm, with two-speed system. Bow folding propeller MAX POWER 140kgs F. with cockpit control. Generator FISCHER-PANDA (PMS-6000) with battery of 70 Amp / h and 12 volts. Diesel fuel tank made of stainless steel with level indicators and cover cleanup, with all kinds of filters and valves and 340 liters capacity. Cooling Engine.
TANKS
Fuel

330 litres

l

Water

800 litres

l

Tanks notes

Salt water: Water filters and box distribution in stainless steel for the following uses: Cooling Engine. Cooling of the generator. Water treatment tapping point. Tapping point to pump salt water to clean the deck, anchor and chain. Fresh water: Two structural tanks of composite with 800 liters capacity, with level indicators and keys and lock for each. Desalinization-Water treatment SPECTRA 70 liters / h. automatic control at the card table. Pump pressure GIANNESCHI & RAMACCIOTTI with 25 liters. Hot water heater 40-liter engine 220v. throughout the boat, including the cockpit shower. Pipes lined with keys and cut for each zone. Taps mixers FANTINI in all services. GROHE showers. Sewage: Two electrical WC TECMA with three-way valves and discharge directly to the sea or deposit. Fuel stainless steel bomb, with deck discharge or sea discharge and control level indicator on the card table. Waste water: Structural tank that collects toilets, showers, refrigerators and air conditioning with automatic or manual pump and discharge to the sea. Bilge: (-painted anti-moho gray). Division four bilge (bow and stern watertight) with four electric pumps with automatic or manual activation and audible alarm and visual presence of water.
ACCOMMODATIONS
Shower

Yes

Accommodations notes

Teak and stainless steel table in the center of cockpit. Tinted and laminated crystals in cockpit. Six mooring bollards fit on deck. Bimini removable in the cockpit. Convertible roof fitted in deck that covers entrance and cockpit. Cushions seats in cockpit and deck for sunbathing. Air conditioning: Centralized installation heat pump and evaporator with hot/cold function CLIMA. Five fan-coils, one in each cabin and two in the living room with separate thermostats and contol in each unit. Gas: Installing double valve and outer tank. Gas leak sensor with alarm and electro-cut valve. Kitchen: Kitchen FORCE-TEN with three burners and oven. Microwave Oven 20 liters ELECTROLUX. Stainless steel freezer 40 liters FRIGONAUTICA. Stainless steel refrigerator 160 liters FRIGONAUTICA.
ELECTRICAL
Battery charger

Battery charger MASTERVOLT, by earth connection and generator.

Electrical notes

12 volt. and 24-volt. installation. Battery group with SONNESHEIN gel 850 Amp./hr). Residual alternator 100 Amp./h. Starter motor batteries and generator 12-volt. by converter MASTERVOLT and batteries. Installation 220 volt. by earth connection and a generator inverter MASTERVOLT 600 watts. Ground MARINCO cable. Plug 220 volt. in each bedroom, bathroom, kitchen, lounge and card table.
SPARS & RIGGING
Sails

Main fully-battened 3DL NORTH 87m2 Genoa 3DL NORTH al 140% 83m2 Forestay sail HALSEY Spectra. Main fully-battened Spectra HALSEY Genoa 140% furling Spectra HALSEY. Genaker light NORTH 260m2 Genaker heavy HALSEY 180m2 Code 0 Kevlar- Carbon with furler NORTH.

Boom

SPARCRAFT in "Park Avenue" aluminiun with lazy-jack blue painted.

Running rigging

Removible hydraulic system for rigging.

Spars and rigging notes

All HARKEN system, mast and deck Hydraulic system NAUTEC with cockpit box to back-stay, outhaul and boom vang. Bow chest with windlass LOFRANS 1500W, anchor DELTA 25 kgs and 60 mtrs chain 10mm. Genoa furler under deck BAMAR A.R.T.E. Sloop 9/10 with genoa 140%. Carbon fiber SPARCRAFF mast with three spreaders at 20° painted on the same blue than deck navigation lights, antennas, etc. HARKEN line with balls for main. Carbon fiber SPARCRAFT bowsprit. Backstay, outhaul and vang hydraulic NAUTEK. Removable forestay sail Kevlar stay. Removable wind Kevlar backstays. Kevlar backstay. Spectra and Rynema halyard. Spectra sheets. Rod rigging RIGGARNA ROD-NITRONIC discontiniuos and self-linned. Genoa halyard brace.
DECK EQUIPMENT
Hatches

SOLIMAR deck hatches.

Winches

HARKEN 2x 74 self-tailing electric.HARKEN 2x 56.3 self-tailing electricHARKEN 2x 48 self-tailing 2 speeds.

Deck equipment notes

steering wheel Two wheels with carbon fiber pedestals. SOLIMAR steering gear with aluminum sector and bearing area self-linned.
SAFETY EQUIPMENT
Liferaft

Liferaft for eight people and boat accessories.

Safety equipment notes

Zodiac auxiliary. Fixed extinguisher in engine room and manual activation. Portable fire extinguishers in each room. Installing alarm sensor infra-red and volume. System access to sensors burglar alarm.