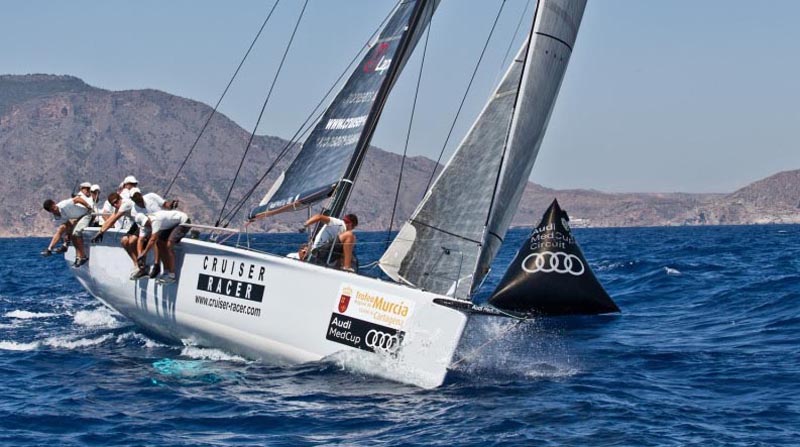 GENERAL
Name

Soto 40 #27
Model

Soto 40

Year

September 2011

Hull material

GRP

Located

Spain

Price

PRICE AT REQUEST

VAT

NOT PAID

Flag

spanish

Type

RACER

Slogan

One desing class AUDI MEDCUP

Description

One desing class AUDI MEDCUP.
DIMENSIONS
LOA

12.00

m

Beam

3.75

m

Draft

2.6

m

Displacement

4200 kg

kg
SPARS & RIGGING
Sails

- Main sail Quantum carbon. - Jib light-medium Quantum carbon. - Jib medium-heavy Quantum carbon. - Jib 3.5 kevlar. - A1 Quantum. - A2 Quantum - A4 North Sails.

Mast

King Composites' mast carbon high modulus.

Boom

Aluminium boom.

Spars and rigging notes

Holmatro mast jack equipment. Mast base adjustable. Rig: The carbon rig includes two swept-back spreaders and masthead asymmetrics assembled to the fixed bowsprit. Sailing upwind, the S40 has about 100sq m. of sail area with their non-overlapping jibs and its square-top main (similar to an America's Cup), brings greater efficiency to the sailplan without making the rig too tall. The twin backstays provide tension for the forestay, when it comes for windy and wavy condition.
DECK EQUIPMENT
Winches

winches and hardware Lewmar.

Deck equipment notes

High load jammers by Spinlock. Tiller: The tiller option the mainsail trimmer is positioned aft of the skipper. The mainsheet system runs forward to the gooseneck and travels back underdeck to a recessed self-tailing winch.
SAFETY EQUIPMENT
Safety equipment notes

Safety equipment complete.
CONSTRUCTION
Construction notes

Hull and deck: The structure is constructed in a female matrix. Vacuum E-glass and Core-cell with epoxy resin are used throughout. The hull is prepared to receive all the internal structure, parts and equipment and be ready to admit the deck. The boat is easy to build, without neglecting the serial production, reduced costs, and measurement and weighting easiness. Lines: The lines of the S40 OD are the result of an extensive study into the pursuit of speed and balance, the almost immersed transom and the geometry of the buttocks (vertical sections) provide control and power at high speeds. The distinctive "winglets" on the topsides reduce the harmful effect of flare on leeward heeled waterlines. Internal Structure: The internal structure is built in a female mould with E-glass bi-axials and carbon fibre uni-directionals cappings. The internal structure consists of central longitudinals and keel floors, side bunks, also "L" shape stringers and bulkheads. Appendages: The keel and rudder are high aspect ratio foils. The rudder comes from a matrix and the keel is drilled, which ensures the equality of the whole appendages of the class. The last one, is a hollowed strut that helps to lower the VCG and allows to add weight to the lead bulb. The deep carbon/epoxy rudder is almost square at the tip. This is an area that works much when reaching and also at large heel angles. For this reason, it has been chosen to increase the induced resistance in this crucial area in spite of diminishing a better lift when necessary.