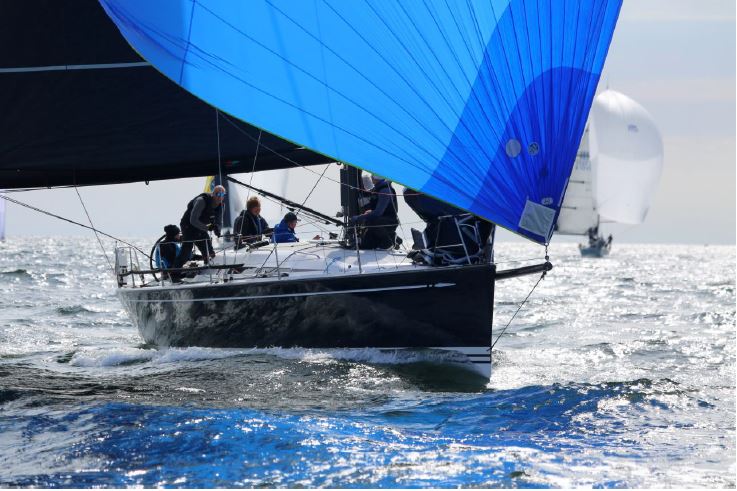 GENERAL
Name

Swan 42 CS PORRON X
Model

Club Swan 42 CS

Year

2007

Hull material

GRP

Sail number

ESP-868

Color hull

DARK BLUE

Located

CASTELLON

Price

PRICE AT REQUEST

VAT

PAID

Flag

SPAIN

Type

RACER-CRUISER

Slogan

EXTRAORDINARY RESULTS UNDER ORC

Description

Always maintained by professional. The ClubSwan 42 was designed by Germàn Frers and built by Nautor's Swan and first launched in 2006. The philosophy on which the Club Swan 42 was built was that of a competitive racer cruiser. The Club Swan 42 offers a modern interior with a light and airy feeling to it. The accommodation and the central areas such as the galley and the navigation station have been planned to maximise space depending on whether the yacht is in racing or cruising mode. She did win the 2022 Gotland Runt in ORCi full crew class A. Porron X is currently ORCi optimized but can also be sailed in One Design. She has both asymmetric and symmetric sail set up. Porron X has over the 2 past years be heavily upgraded. A new sail plan delivered by North (3Di RAW 87 etc.) and complete new Durepox bottom. More upgrades are mentioned below.
DESIGN
Builder

NAUTOR

Designer

GERMAN FRERS

Design notes

BUILDER'S CERTIFICATED
DIMENSIONS
LOA

12.96

m

LWL

11.29

m

Beam

3.91

m

Draft

2.74

m

Displacement

7.200

kg
ENGINES
Engines

VOLVO PENTA D2-40 40HP

Engines hours

900

Propeller

2 blade propeller.

Engines notes

ENGINE Inboard. Volvo Penta D2-40, 130S marine diesel engine 29 kW, 40 HP. Approx 900 hrs running time Volvo Penta throttle and gear system, teflon cables to engine and gear box (all new in 2021) Engine room fan, automatic temperature starts and close down. The engine room is equipped with a separate fire extinguisher (automatic and manual released) Saildrive with 2 blade folding prop. Serviced 2015/2016 with new Rubber hull seal 2016.
TANKS
Fuel

140 L

l

Water

320 L

l

Holding

Yes

l

Tanks notes

Fuel: 140 Litres fuel in two polyethylene tanks. Fresh water: 320 Litres in polyethene tanks. Grey/Blackwater holding tanks: Flexible holding tank, 55 L, emptied by hand pump or deck suction (new 2021)
ACCOMMODATIONS
Berths number

6

Cabins number

3

Cabin height

2

m

Shower

Yes

Heating

Yes
GALLEY
Hot water

Yes

Coolbox

Yes

Refrigerator

Yes

Water system

Yes

Galley notes

Plumbing Systems Fresh Water & Water Heating System (new water heater 2020) Back up foot pump for fresh water. Bilge Pumps: 3 x Manual and one electric bilge pump (one new bilge i lazarett 2021, new point of drain under pedestal) Eberspacher Heating (upgraded (removed and serviced in the work shop 2021) INTERIOR FINISH Two-burner gas stove with oven, protected by stainless steel guard (new in 2016)
ELECTRICAL
Batteries

3

Battery charger

YES

Electrical notes

240 V outlet, throughout. 240 V Shore Power system (outlet and cable 16A) (new 2022) 30 amp shore power cord and inlet. (new 2022) 12V:Fuelcell, Efoy, 140 Ah/24hrs (new 2022) Lithium battery 100 Ah,Consumption,14 kg, new in 2022 Lithium battery 25 Ah,Start of engine, new in 2022 LED lights in interiors (complete white and red night light in all sections/areas (new 2021) LED in all mast lights and deck lights (new in 2021) 12V cabling and antenna cabling in the mast (new 2021) Mast foot electrical connection, GPS/NMEA 2000/12 V, plug and play (new 2021) Battery charger USB: Outlets in every cabin and several at navi stations.
SPARS & RIGGING
Sails

Asymetric and symetric sail set Racing forestay set up Race set up with most sails new in 2022 (3Di RAW 870 upwind and downwind). SAILS Race set up most new in 2022 - 3Di RAW 870 up wind and new down wind See separat sail invertory list. Traing and training and cruising sails "See separat sail invertory list" SAIL Main one sails: 2018 / Main 1: 2009 / Main 2: 2012 / Jib 1,Jib 2,Jib 3, Jib 4 / Jib top: 2007 / Spinnaker staysail/ Jib medium 2010 FURL: 2010/ Jib heavy FURL:/ Furling Jib CR / S2: 2018 / S2,5: 2015 / S4: 2007 / A1 (on pole): 2014 / A1: 2009 / A2: 2018 / A5 / A0/code 75 RACE Main: 2022 / Main offshore / Jib 1: 2022 / Jib 2: 2022 / Jib 3: 2018 / Jib 4: 2018 / Jib top: 2022 / Genoa staysail: 2022 / Spinn staysail SS-1: 2022 / Try sail/ Storm Jib/ A1: 2022 / A2: 2022 / A4 MH/ A5 FR: 2022 / A6 FR

Rigging

Navetec rod rigging 2015

Mast

Carbon

Boom

Carbon

Vang

Yes

Spinnaker pole

carbon

Tuff Luff

Yes

Running rigging

Dyneema

Spars and rigging notes

Rigging All current running rigging is of 2021 or newer All halyards are new in 2022 (jib, spin, stay sail and main) 15/16ths rig is set up for fractional upwind sail and masthead spinnakers Two sets of back spreaders support the runnerless rig and the hall Antal runners in both the offshore and inshore mainsails 3 X Booms (1 class boom, 1 carbon IRC boom, 1 Southern Spars IRC/ORC boom (2017) Hydraulic mast step adjustment Hall constructed carbon fibre bowsprit system with added bobstay (serviced in 2021) SPARES & RIGGING The Club Swan 42 carbon mast is supplied with a clear coat finish (recoated in 2015 and upgrade repainted coat The 15/16ths rig is set up for fractional upwind sails and masthead spinnakers Two sets of swept-back spreaders support the runner-less rig, and the Hall – Antal mainsail luff track acceptseither Antal runners in 2 main sails (Off shore and Inshore) The hydraulic mast step adjustment enhances the tuning process Hall constructed carbon-fibre bowsprit system with added bob-stay /(Serviced in 2021) Navtec rod rigging with aramid backstay. (NEW in 2015) 3 x booms (1x class boom, 1x Carbon IRC boom, 1x Southern spars IRC/ORCi boom (2017) All current running rigging is of 2021 or newer, all haulyards new in, jib, spin, stay sail 2022) Large amount of spare running rigging Main haulyard (new 2022) Main sheet (new 2021) Bow spirit including bob stay (upgraded in 2021) Barbour hauler (new 2022) Outboard sheet Jockey pole/Strut, carbon Jib - sheets inside (new in 2022) Spin - sheets x 2 0utside new in autumn 2021) Lacy Jacks (fitted on the OD alu. BoM
DECK EQUIPMENT
Deck hardware

Harken

Hatches

Lewmar

Winches

Winches Harken aluminium alloy:- Primary sheet winches B 60. 3STA.- Mainsheet winches B 53. 2STA.- Cabin top winches B 44. 2STA.

Deck equipment notes

Electric windlass. Removable anchor roller. carbon rudder. Stainless steel chain plate deck fittings High-density core or compact laminate under winches and deck hardware as appropriate Carbon platforms at Helm position (adjustable in two positions-all new in 2021) Carbon protection cover on stern (point of forestay fixing point-new in 2021) Bowsprit (serviced and re-sealed in 2021) WINCHES Cabin top winches Harken two speed with fast drum (2015) original class winches 2 B 44.2 Mainsheet winches 2 B 53.2 STA. (powered Stb winch in storage) Primary winches 2 B 60.3 speed.
SAFETY EQUIPMENT
CE Registration

yes

Fire-extinguishers

yes

Epirb

yes

Liferaft

yes

Safety equipment notes

First aid kit Fire extingusher, powder 6 pcs (new 2021) Fire blanket Fire extingusher in the engine room, manual release and automatic release (all new in 2021) EPIRB (new 2020) Jon Bouy (Dan Bouy, strobe light) (new 2020) 2 x Rescue sling (new 2021) Life raft, 8 PAX (new 2020) Flare packs (valid) (all new in 2021) Life lines along Scarn deck Extra emergency antenna (new 2020) Emergency rudder stored in lazaret Additional hand held VHF (new 2021) Signal clot (Cat 3) (new 2021) MOB / COB push button in cockpit Radar reflector, aluminum, fouled and stored Strobe light Grab bag emergency kit (Cat 3) Pyrotechnics, in separate Grab bag (flares etc..) Valid.
CONSTRUCTION
Keel

T-shaped Fin Keel

Construction notes

Hull construction: cored Infusion moulded E-glass/vinylister laminate with carbon reinforcements. T-keel, steel fin with Antimony lead bulb. Epoxy coated. Faired to class tolerances. Twin aluminium wheels, diameter 0.95. KEEL / RUDDER / UNDER WATER LINE: T-keel, steel fin with antimony alloyed lead bulb and with upper flange recessed into hull (Epoxy coated, faired The fin is bolted to hull with high-tensile steel bolts Max draft class rudder, not installed ORC/IRC carc´bon rudder - currently installed and rated in ORCi Rudder, rewmoved, bearings serviced in 2022 (removed, new sealings o-rings etc.) Epoxy coated bottom, sanded and faired polishe for race (complete upgrade in 2022, old removes, new DurEpox The hull and deck of the Club Swan 42 are a sandwich construction of infusion molded E-Glass/ vinylester laminate featuring carbon fibre reinforcements. The material lay up provides high fore and aft stiffness for better performance, rig control and durability. The yacht has a T-shaped keel of composite construction with a fin of high-tensile steel and a 3.2 ton lead bulb at 2.7m below the water line. Both the keel and the rudder blade have been designed using Computational Fluid Dynamics and Finite Element Analysis to guarantee optimal shapes. The rudder is made of carbon and is rated for ORC/IRC and was recently removed with bearings serviced in 2022. The bottom has been epoxy coated, sanded and faired for racing (complete upgrade in 2022).