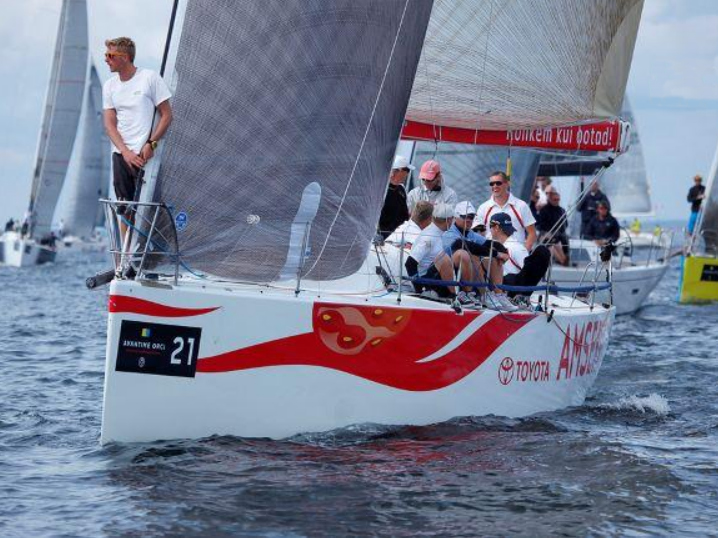 GENERAL
Name

Grand Soleil 42 Race Amserv
Model

Grand Soleil 42 Race

Year

2003

Hull material

GRP

Located

Estonia

Price

PRICE AT REQUEST

VAT

NOT PAID

Flag

estonian

Type

RACER-CRUISER

Slogan

An ORC winner.
DIMENSIONS
LOA

12.00

m

Beam

3

m

Draft

2.6

m

Displacement

6468

kg
ENGINES
Engines

Yanmar

Propeller

bronze folding
ACCOMMODATIONS
Shower

Yes

Accommodations notes

6 berths. Door to toilet. Galley. Gas burner, 2 flame. Toilet. Sony stereo. Webasto Heater.
ELECTRICAL
Batteries

3 Batteries (longlife).

Electrical notes

Charger for electricity. Fuel measure. Battery measure. Navigation light on pullpit and on pushpit. Mast unit for light for windex. Masthead antenna for VHF. Masthead unit/windinstrument. Boiler.
SPARS & RIGGING
Sails

Large sails wardrobe. Sails All North Sails 2015 3DL square top main 2014 Jib light medium, 3Di 2012 Mainsail Jib Light/Medium Jib Medium/Hevy (3di) Spinnakers S 1,5 (approx 120m2 under ORCi). Only used at ORCI 2012 Worlds in Helsinki and in Sandmhamn ORCI European championships 2013 2013 Jib Light/Medium JibTop Spinnaker S4 (Approx 108m2 under ORCi) Comment of the owner: All these sails are in good shape and are suitable for racing. + about 20 older sails. + Storm Sails + Delivery sails

Spars and rigging notes

Mast with 2 double spreaders. Harken forestay/jib furlers. 4 diagonals. Main halyard in 12 mm Dyneema. 2 x spin halyard in 12 mm Dynema. Jib hallyard in 12 mm Dynema. 1 x extra Jib from NS(Light/Medium), 3DI model 3 x Harken highload blocks for backstay. 2 x tyleska hook for spinn halyard. Titanium hook for jib halyard. Tyleska for lift. Carbon spinnaker pole. Down for spinnaker pole. 3 x clamcleats on mast for halyard and spi pole. Outhaul system. Cunningham system. Vang. Mastjack (hydralic). 6 x plates for mast jacking. 4 x pins for mast jacking. Hydraulic pump for mast jacking. Symbolic reef system. Spinnlock for main halyard. Harken carbon block for main halyard. Mastfoot plus marking. 2 x Harken highload blocks for mainsheet. 2 x backstays 3DL square top mainsail form North Sails, 2015
DECK EQUIPMENT
Deck equipment notes

2 x Harken winches for spinntrim. 2 x Harken genua winches. 2 x Harken main sails winches (selftailing). 2 x Harken backstay winches (selftailing). 2 x Japanese system for spinnsheats. 1 padeye for downfucker. 2 x padeys for staysails. 6 x highload blocks for halyard. 2 x jibtracks for barber. 2 x barber system on deck. 4 x lying highload blocks for mainsheet. 2 x highload blocks for jibbsheet. 2 x system for barber out the jiib. 2 x system for barber in the jiib. 2 x system for lift the jiib. 6 x clamcleats for the jiib trim systems. 6 x Harken blocks for the jiib trim systems. 4 x spinlocks clutches on the doghouse. 3 x big Harken clamcleats on the doghouse. 2 x big Harken clamcleats on the side of the doghouse. Outhaul system (2 clamcleats). Cunningham system (2 clamcleats). Traveller system (2 clamcleats, 6 harken blocks). Harken track for mainsail. 2 x 2 x Harken blocks for jiib & spinnaker sheeting.
SAFETY EQUIPMENT
Safety equipment notes

Liferaft Viking 6 pers and Liferaft 4 pers. 10 x safety harness. 10 x lifejackets (Baltic). Foghorn. Set of spare navigation lights. Safety pump for bailing water. Safety rudder. Safety anchors plus rope. Soft plugs. Fire extinguishers. Horse shoe buoys. Safety lines on deck. Set of flares. Flashlights.