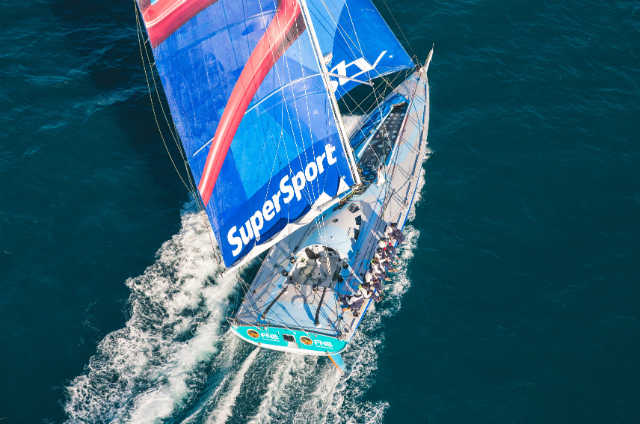 GENERAL
Name

Open 60 Explora
Model

Open 60

Year

1998

Hull material

Carbon

Sail number

SA 4395

Located

South Africa

Price

200000

€

VAT

NOT PAID

Flag

South Africa

Type

RACER

Slogan

Great Open 60 capable of everything!!
DIMENSIONS
LOA

18.00

m

Beam

6

m

Draft

4.5

m

Displacement

8655

kg
ENGINES
Engines notes

Engine: Yanmar 3gm30 + Saildrive (27hp) new 2003. Generator: Fischer Panda 3.2KVA AGT 4000, new 2008, 440 hours. Fuel Filters: Separ and engine original.
ELECTRICAL
Electrical notes

Batteries: 4 250Ah gel domestic (2 new in 2008, 2 new in 2012) 1 110 Ah engine start new Dec 2007
SPARS & RIGGING
Sails

Main: North 2008 Spectra. Solent: -UK Halsey Carbon double taffeta. New June 2007. -North 2008 Spectra. Staysail: -North 2008 Spectra. -North 2004 Spectra. Spinnakers: -A1 North 0.75oz with 0.9oz : 340m2 :New 2013. -A2 Incidence 0.75oz : 376m2 : Good condition. -A3 North 0.9oz : 312m2 : Very good condition. -A5 North 1.5oz : 295m2 : Good condition. -Training A1 Incidence 0.75oz/2ply luff: 393m2. -Training A2 North 1.5oz : 289m.2. Code 0: -Parker and Kay; old but excellent condition. Gennakers: -North paneled Kevlar Code 6, good condition. -Incidence Kevlar Code 6, good condition - needs repair. Snuffers: -ATN and North (4 of). Miscellaneous: -Staysail deck bag, dock/deck bag, sail covers, bags for all sails.

Spars and rigging notes

Rig: Type: Fixed carbon fibre 3 spreader, carbon boom (2004). Manufacturer: Alucarbon. Rigging: Lancelan PBO (2008); V1s & D1's upgraded to PBO with new bottle screws february 2011. Running Rigging: Main Halyard – new 2013 Spin Halyard – new 2013 Staysail Halyard Staysail Sheets Solent sheets Mainsheet Traveller lines – new 2013 Code and Spin sheets Tack line – new 2013 3 reef pennants Outhaul Solent furling line – new 2013 Code sail furling line – new 2013 Jackstays Assorted mooring warps – new 2013 Spare lines Main halyard Halyard Genoa Solent sheet Spin sheet Staysail sheet Reef pennant Tack line Assorted odd lines and lashing material Cunningham and blocks
DECK EQUIPMENT
Deck equipment notes

Winches: -5 Harken 65 2 speed -1 Andersen traveller winch Pedestal: Harken Furlers: 4 Karver (Solent, Genoa, 2 Code sails) Mainsail: Antal Hardware Alucarbon Batten Cars Blocks: Fredriksen/Harken Jammers/clutches: Spinlock Snap shackles: 8 Tylaskas
SAFETY EQUIPMENT
Safety equipment notes

Miscellaneous: -1 of 406 EPIRB ACR Electronics, 2 radar reflectors fixed -14 TPA's, 2 Radar Reflectors loose, -2 anchors; CQR, Bruce, + chain / chain and warp (IMOCA / MCA compliant) -2 webbing jackstays, -MECAL Training Manual, -MCA approved first aid kit, -Softwood bungs for every skin fitting -3 emergency knives -Chemical glow sticks -Sail and Ballast crossover charts -SART -4 of Radar reflectors Medical Kit: -MSOS full 2008 Vendee Globe medical kit - valid 2014 -MCA Cat 2 coding Medical kit -Medical kit in use -Assorted splints etc Shapes: -2 Black Balls -1 Motoring cone -2 Radar Reflectors – fitted on rig at second spreader. Lights: -1 Nav lights -1 tricolour -1 steaming light -24v Searchlight -2 Emergency Torches Sounds: -Ships Bell (Over 12 M) -2 Fog Horns Fire: -4 Fire extinguishers, min rating 13A113B -1 Fire Blanket Notices/Publications: -SOLAS 1 or 2 Life saving signals tables -VHF procedures card -Nautical Almanac Liferafts etc.: -hydrostatic releases, for transom canister raft -8 man raft brand new in 2013 Horseshoe buoys: -2 Lifebuoys -1 Lifebuoy lights -1 Lifebuoy buoyant line -1 Inflatable Danbouy -1 Drogues Lifejackets: -10 with harness lines, lights and whistles, plus spares. -5 needed new gas cylinders. Flares: -Coastal Pack only Pumps: -Henderson Mk 5 bilge pump in cockpit -Whale Gusher 20 mobile bilge / fire pump -24v Rule 2000 mobile pump -Ballast pump converts to bilge pump also * All pumps can be linked through all bulkheads and to the outside of the boat with lengths of pipe with connectors on.