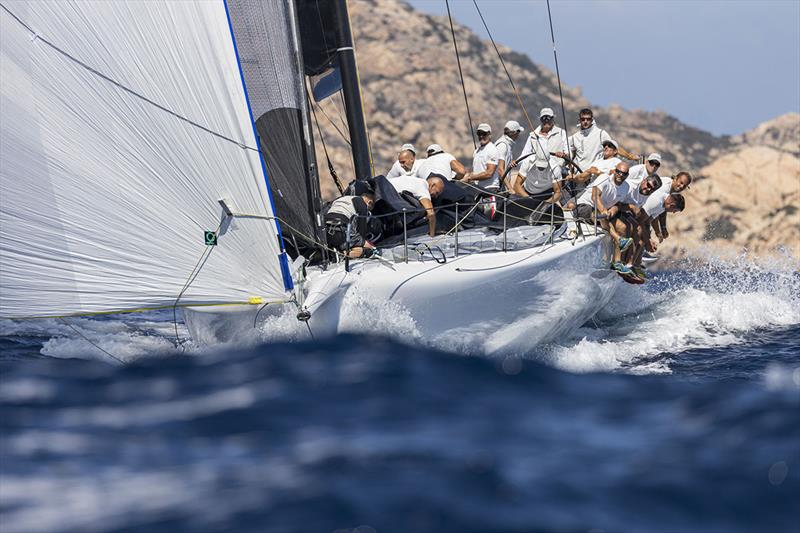 GENERAL
Name

Maxi 72 Cannonball
Model

Maxi 72

Year

2016

Hull material

Carbon

Located

Mallorca

Price

PRICE AT REQUEST

VAT

PAID

Flag

British

Type

RACER

Slogan

2021 World Champion

Description

Winner of the Copa del Rey and the Maxi72 World's championship in 2019. With remarkable results in the previous years.
DESIGN
Builder

Premier Composites

Designer

Botin Partners
DIMENSIONS
LOA

25.03

m

Beam

5.7

m

Draft

5.4

m

Displacement

16500

kg

Dimensions notes

Hull Lenght: 21,9 m
ENGINES
Engines

Yanmar 4JH4-HTE 110 HP

Propeller

22.25' diameter bronze propeller

Engines notes

Propulsion: • 2 x Xtreme morse cable control cables • Customized Morse cable mechanism from Spinlock source • Air vent installation • Retractable Prop system by Cariboni in titanium. • Complete fuel system. Goodridge • Carbon fiber waterlock and exhaust
TANKS
Fuel

50

l

Water

200

l

Tanks notes

Vetus plastic fuel tank.
GALLEY
Galley notes

• Racing style cooker and sink carbon autoclaved moulded shelf • Nomex cored ultralight carbon floorboards • Custom gimbled composite WC • Carbon engine box cover and panel
ELECTRICAL
Electrical notes

x 12V / 90AH Lithium batteries
SPARS & RIGGING
Sails

• 3 sets North Sails 3Di Raw • 2 sets Quantum 2019 (Jib - Main - GS - Code Zero - SS)

Spars and rigging notes

Cylinders @500 bar for the following functions: Forestay, Jib Cunningham, Jib Top luff tensioner, Genoa Staysail tensioner, Jib Up/ Down x 2, Jib in, Main Cunningham, Outhaul, Deflector, Mast Base, Nang, Mast Jack is connected manually.
DECK EQUIPMENT
Deck equipment notes

• Ultralight hollowed minimum drag toe rails • Air pressurized foredeck sliding hatch with Staysail and sheets doors • External Companionway sliding hatch • Flush stanchions sockets • Adjustable helmsman upstands (Zero, 15 and 25 degrees of heel) • Adhesive cockpit floor non skid • Female moulded carbon fiber rudder with autoclaved rudder stock • JP3 self aligning Upper rudder bearing model 48.20.28 • JP3 self aligning Lower rudder bearing model 48.22.16 • 750mm diam double system carbon quadrant • PCT made carbon pedestals • PCT made 1200mm diameter pre preg carbon wheels • 2 x JP3 Titanium 5/8" sprocket steering heads. • 4 x 100mm diameter Winmar blocks • 7mm steel Steering cables • Custom autoclaved fixed carbon bowsprit • Titanium pignose fitting • Carbon airfoil shape bobstay • Blocks, Sheaves, Tracks & Cars supplied by Winmar • Stoppers and Jammers supplied by Spinlock • Organizers and metal custom parts supplied by Spinlock Custom • Riders supplied by KZ Marine NZ • Spinnaker sheet reelers supplied by Diverse Yacht Services UK • Extra unexpected material D-Winch System Supplied by Stay in Phase and Harken Italy • Drive Carbon Pedestals by Stay In Phase by SiP) • Gear Boxes and Overdrives by SiP • Carbon Shafts, Couplings, Glue and Components by SiP • Disconnect buttons for clutches by Harken • Composite parts by SiP
SAFETY EQUIPMENT
Fire-extinguishers

2

Liferaft

1 x UltraLite 10C and 12C Carbon Canister

Safety equipment notes

Category 1 complete pack from Ocean Safety including: • Anchor and warp • 20 x Spinlock racing inflatable lifejackets • 7 x Equiplite 7DS offshore lifeline anchoring points • West engineering OSR compliant titanium stanchions • Carbon OSR compliant carbon pulpits and pushpits • Steel wire lifelines
CONSTRUCTION
Keel

2

Construction notes

CFD optimized fin keel High resistance steel keel strut made out of Grade Dillimax 690QL (Similar to Weldox700) to designer specs. Keel assembled with CNC milled lead and composite leading and trailing edges covered with glass and carbon. Keel Tenon CNC milled and aligned with testing jig on CNC hulU mould reference marks. Inconel bulb and keel bolts and nuts. Bulb milled to excat weight once installations are completed. The design has been developed to minimize weight and windage. The structure is fully optimized for minimum weight and maximum stiffness. State-of-the-art FEA design tools have been utilized to optimize the layouts, laminate specs and details designed and built in accordance to ISO structural regulations to Class A with plan approval by Germanischer Lloyd. Hull and Deck moulded from CNC machined toolin. The hull and deck constructed from Intermediate and high modulus unidirectional pre-preg carbon in Kevlar honeycomb sandwich. Additional optimized unidirectional carbon epoxy pre-preg reinforcements in way of all deck fittings and other highly loaded areas. Structural internals are L flange style capping and built from vacuum consolidated unidirectional pre-preg carbon/Kevlar honeycomb construction. Non- structural internal components are built from unidirectional Prepreg carbon/Kevlar.