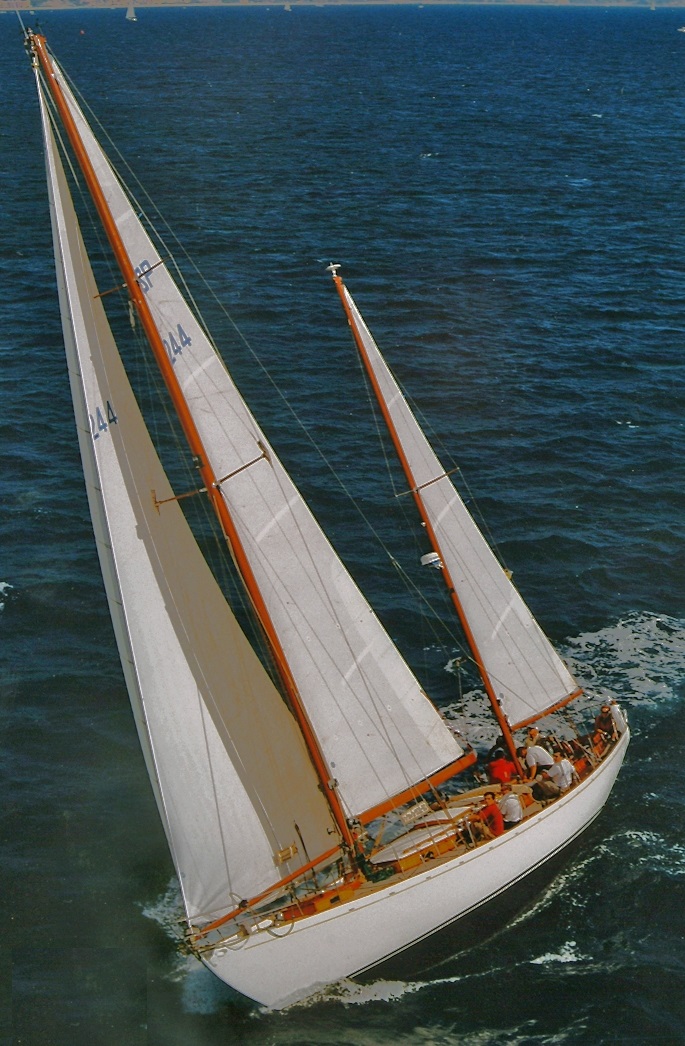 GENERAL
Name

FRERS 52 ESCORPION
Model

FRERS 52

Year

1943

Hull material

GRP

Sail number

ESP 1244

Color hull

White

Located

SPAIN

Price

195000

€

VAT

PAID

Flag

SPAIN

Type

CRUISER

Slogan

A jewel boat for cruising and a successful too at classic regattas.

Description

Germán Frers Sr started a design dynasty in Argentina that is very much alive today with a 3rd generation of respected designers bearing the name. Fast beautiful and seaworthy is an accurate assessment of Frers Sr's designs - oft proven in the happy hunting ground of the Bermuda Race. As a young man he really wanted to be a seaman rather than a yachtsman as such and perhaps this desire is subtly reflected in his yachts' sea keeping qualities. ESCORPION has circumnavigated the Globe in her former ownership - and her more recent history reveals her to be a much loved family boat for cruising - successful too at classic regattas. Her interior seems to be substantially original exuding a wonderful period ambience. She is utterly charming and is a must to see.
DESIGN
Builder

GOMEZ Y GUTIERREZ ARGENTINA

Designer

GERMAN FRERS

Design notes

This yacht was designed by German Frers to the order of Adolfo Züberbuler, built in 1943 at Astilleros Gómez y Gutierrez in Argentina and launched that year with the name HUAGLEN. Some years later she was acquired by one Carlos Baradaco who brought her to Spain - to participate in the Balearic Island regattas under the new name PLOUSH. Later in 1963 on Sr Baradaco succumbing to illness; PLOUSH was bought by José Luis Pérez Albert, in whose ownership the yacht brought pleasure both to him and his son whether cruising or participating in the numerous Mediterranean regattas under her new name of CAROLUS II. Meanwhile the name PLOUSH endures – deep engraved in the brass banded helm wheel. In 1968 she passed into the hands of José Mª Padro, who it was gave the yacht her present name ESCORPION and competed himself in numerous regattas. He capped these with a round the World cruise, on the culmination of which ESCORPION was dedicated once more to cruising for pleasure - and rewarded with a conscientious maintenance regime. Then in 1992 the current owner having met José Mª Padro during his World cruise was moved to buy ESCORPION for himself. In his ownership ESCORPION has cruised throughout the Mediterranean, Greek waters and sailing a lot around Barcelona and the Balearics in particular. More recently she has also raced in regattas including the "Trofeo Prada", "Regates Royales" in Cannes and "Les Voiles de Saint Tropez". In 2002 she crossed the Atlantic to take part in the Antigua Classic Regatta and in due course returning to Spain, where she is now lying.
DIMENSIONS
LOA

15.85

m

LWL

11.3

m

Beam

3.76

m

Draft

2.72

m

Displacement

15.800

kg
ENGINES
Engines

YANNMARK 4JH2 100 HP

Cruising speed

100

kn

Engines notes

- Yanmar 4JH2 100 HP Diesel engine, new 2000
TANKS
Fuel

400

l

Water

700

l

Tanks notes

- 40 litre / 9 gallon water heater - 2 x Stainless steel fuel tanks total 400 litres / 90 gallons - 4 x Water tanks 700 Litre / 154 gallons total
ACCOMMODATIONS
Berths number

8

Cabins number

2

Shower

Yes

Accommodations notes

- Main companionway hatch in coach roof amidships offset to stbd - Spiral staircase down to the impressively original interior of varnished cedar joinery - Varnished teak cabin sole - White painted deck head contrasting with varnished deck beams and joinery - At base of companionway to left and aft Saloon and aft cabin - 5 x Opening ports and 2 x Deck head lights - Drop leaf dining table close to centreline - Long settee to port forming U shape aft and extending forward to stbd for pilot's seat - 2 x Quarter berths aft; one each side - Reading lights each side - Engine access between quarter berths - Companionway ladder aft and hatchway over to bridge deck and cockpit - Large locker for provisions fwd to port with flag locker above - Large chart table to stbd with drawers under and more stowage outboard - Navigation instruments and ship's isolator panel - Schatz clock, barometer and thermometer / hygrometer on companionway semi bulkhead Head compartment stbd - Jabsco automatic WC - Large ceramic wash basin with hot and cold taps - Shower with teak grating sole - Large stowage lockers - Opening port - Deck head light Mid cabin fwd full beam - 2 x Long single berths; one each side of mast with hinged wooden lee boards - 2 x lockers at berth level each side - 2 x Lockers above and outboard either end of bookshelf each side - Half model of yacht on stbd bulkhead fwd - Hanging locker each side - Skylight and 4 x opening ports - Deck head light - 4 x Reading lights Forecabin - 2 x Single berths; one each side - Ladder to port to access raised hatch in foredeck - Chain locker forward
GALLEY
Hot water

Yes

Coolbox

Yes

Refrigerator

yes

Water system

Yes

Galley notes

Galley to port - Brushed stainless steel worktop - Butsir original gimballed 2 burner gas hob against aft bulkhead - Plate racks and lockers outboard and under - Top loading 12 V and 220 V fridge freezer - Stainless steel sink with hot and cold mixer tap forward - Cook's seat in tubular steel frame for security en voyage - Saltwater tap operated by foot pump - Deck head light
ELECTRICAL
Batteries

3

Battery charger

YES

Generator

Fisher BMW 3.5 kW

Electrical notes

- Paguro generator - Mastervolt 25 A charger - Fisher BMW 3.5 kW generator - 3 x 185 Ah Service batteries - 1 x 120 Ah engine start battery - Master switch box
SPARS & RIGGING
Sails

Sails - Main, jib and mizzen Hood Sails old but serviceable - 2 x Dacron mizzen staysails by Banks sails; one for beam one for broad reach; not much used - Mizzen staysail North sails - Spinnaker North sails - Genoa North sails - Genoa heavy duty - Storm jib

Rigging

spectra

Mast

Aluminium

Boom

Aluminium

Vang

Yes

Spinnaker pole

Yes

Running rigging

Dyneema

Furling system

Yes

Spars and rigging notes

Ketch rig - Proctor alloy main and mizzen masts and spars - Profurl 2000 forestay roller - Stainless steel standing rigging new 2003 - Spectra running rigging 2000 - Covers - Profurl genoa furler - Track with Fredriksen car on leading edge with spinnaker pole cup - Spinnaker pole on stainless steel mounts port foredeck - Main mast; two spreader Proctor alloy
DECK EQUIPMENT
Deck hardware

LEWMAR

Winches

Lewmar

Deck equipment notes

From aft - Passarelle and swim ladder - Varnished toe rail - Swept teak deck with white painted coverboard in the American style - Chromed fairleads in taffrail each side - Stainless steel open gated pushpit - Stainless steel stanchions and guard rails leading forward - Ensign staff socket and bracket for passarelle - Raw teak Sampson posts each side - Traveller car and blocks for mizzen sheet - Raised varnished cockpit coaming with additional back support aft for helmsman - Seating aft and to sides on deck extending under the coaming - Lifting helm seat aft to lazarette under - Raw teak grating and planked sole - Brass bound spoked varnished helm wheel (PLOUSH) on bronze binnacle and chromed hoop - Engine throttle control to port and instruments to stbd - Nav plotter and autopilot screens each side below - Danforth Constellation steering compass in binnacle - 2 x Lewmar 48 ST sheet winches; one each side on Stainless steel pedestals outboard - 2 x Lewmar 56 ST sheet winches; one each side on Stainless steel pedestals outboard - 3 x Teak cleats mounted on top of coaming each side - Large opening hatch in cockpit sole ti life raft stowage and generator access - Mizzen mast; single spreader Proctor alloy spar with Anderson 28 halyard winch - Bridge deck to trunk cabin - Ship's chromed bell on trunk cabin aft bulkhead - 2 x Lewmar 48 ST winches on coach roof; one each side for main sheet - Main traveller With Fredriksen car and Tufnol cleats each side - Antal winch for lifting centreboard - Companionway hatch to aft accommodation offset to port, washboards and sliding hatch - Spray hood on folding stainless steel frame - Varnished teak hand rails on coach roof each side - Genoa tracks and Antal cars outboard on deck each side - Furler control to port - Running backstays to Tufnol block and tackle with jammers - Main companionway to saloon in coach roof offset to stbd - Spinnaker pole on stainless steel mounts port foredeck - Main mast; two spreader Proctor alloy - 2 x Andersen 46 halyard winches - Anderson 40 reefing pennant winch under boom - Track with Fredrikson car on leading edge with spinnaker pole cup - Dorade box, Lewmar vent - Raised foredeck hatch - Nilsson chromed bronze capstan windlass and warping drum - Stainless steel pulpit - Large Sampson post - 20 Kg Bruce anchor - Large bronze Panama eye fairleads each side abaft bow - Bow roller - Profurl genoa furler
SAFETY EQUIPMENT
Fire-extinguishers

YES

Epirb

YES

Liferaft

for 8 person

Safety equipment notes

- ACR Globalfix EPIRB - Electric bilge pump - 8 Person life raft - Avon 3.5 m inflatable dinghy with Suzuki 15 HP outboard engine
CONSTRUCTION
Construction notes

- Hull planking in 33 mm Viraro hardwood copper fastened - 47 pairs of 45 x 50 mm Viraro frames at 250 mm centres - 5 pairs in the bow and 4 pairs astern of 50 x 50 mm - Lapacho (Brazilian walnut) 550 x 140 mm keel - Viraro 180 x 120 mm stem and 145 mm stern post - Viraro beam shelf 50 x 60 x 120 mm - Viraro floors - Lapach 60 mm keel box - Monel metal keel bolts - Deck beams 50 x 70 mm x 60 and reinforced 75 x 95 mm x 75 - Sub deck of 30mm Afara - Teak deck planking over - Cedar 32 mm deck house sides - Cedar 25 mm coach roof over 40 c 50 mm cedar beams with painted 8 oz canvas top