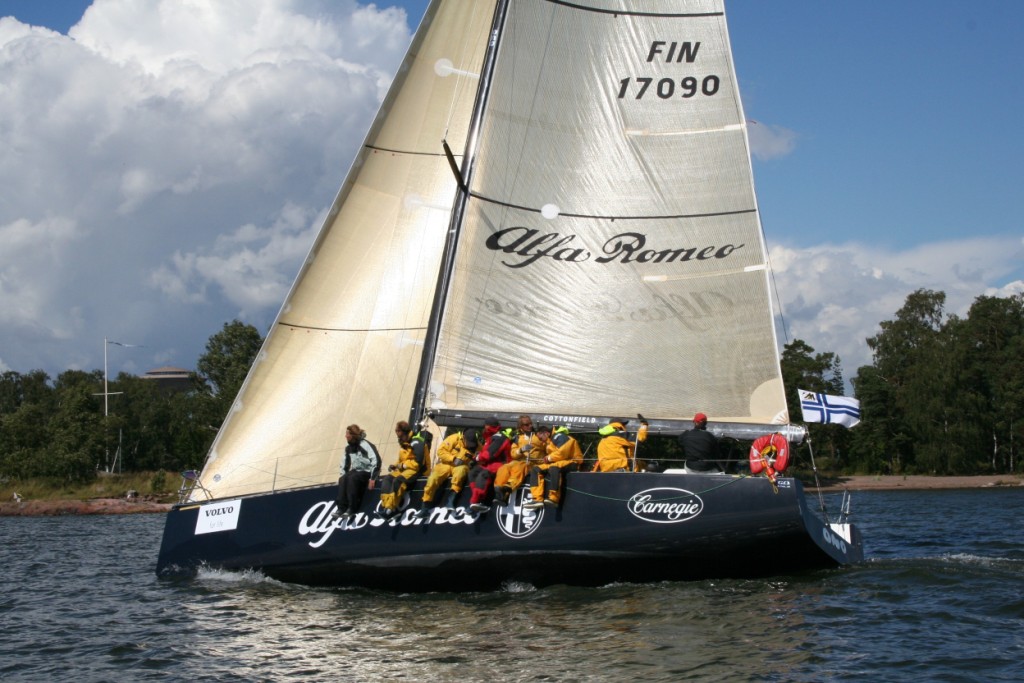 GENERAL
Name

Judel and Vrolijk 42
Model

42 Race

Year

2004

Hull material

Epoxy

Located

Finland

Price

PRICE AT REQUEST

VAT

PAID

Flag

Finnish

Type

RACER-CRUISER

Slogan

.
DIMENSIONS
LOA

13.00

m

Beam

3.26

m

Draft

2.54

m

Displacement

6600

kg
ACCOMMODATIONS
Shower

Yes

Accommodations notes

Double berth in front cabin Hanging wardrobe Marine toilet WC Plastimo Plastic wash basin with manual fresh water pump 2 Longitudinal sofas/berths with foam cushions and hinged backrest in white color 2 Wardrobes to keep clothes Table of 0,55 m2, folding FIX WOOD table in the middle.
GALLEY
Refrigerator

20 lt fridge

Galley notes

Manual pressure water pumps supplying the galley 2 burner gas cooker Circular stainless steel wash basin with fresh water manual pump Stowage cupboard for kitchen
ELECTRICAL
Batteries

1 gel Battery 70 AH-12V for start of engine , 1 gel Battery 140 AH-12V for electrical installations

Electrical notes

Red/green navigation lights at bow pulpit. White stern navigation light at starboartd aft pulpit. White light at mast head for windex. 8 halogen spotlights for interior 1 halogen lights for navigation table Fluorescent lights for toilet and kitchen Electrical switchboard with 10 thermic fuses/switches Instruments for diesel tank level and service battery voltage. 2 12 V plugs by navigation station Shore power
SPARS & RIGGING
Sails

3DL SAILS NORTH SAILS 1. MAIN 3DL KEVLAR 20/06/04 2. MAIN 3DL CARBON 20/07/04 3. GENOA Light 3DL KEVLAR 20/06/04 4. GENOA Light–M 3DL CARBON 20/07/04 5. GENOA Médium 3DL KEVLAR 20/06/04 6. GENOA Heavy 3DL CARBON 20/06/04 7. GENOA 3.5 KEVLAR 20/06/04 8. GENOA 5.0 KEVLAR 15/05/06 9. GENOA Light WB-SAILS 01/08/06 SPINNAKER: SPINNAKER 1.5 S3 20/06/04 SPINNAKER 0.4 S2 20/07/04 SPINNAKER 0.5 S2 +20/06/04 SPINNAKER AIRX 500 20/08/04 CODE 0 NYLON SOFT NORLAM 20/08/04 2 Spinnaker halyard (spectra) 1 Genoa halyard (vectran) 1 Topin Lift (spectra) 1 Main halyard 2 x 1. (spectra)

Rigging

Standing rigging Navtec with Navtec turnbuckles, v1,d1, d2 with turnbuckle, forestay with turnbuckle

Mast

CARBON MAST KING COMPOSITES designed for this boat with section 245 X 123 mm with 2 set of carbon sp

Boom

Carbon fiber boom in carbon colour with double block for outhaul and reef

Vang

Vang fitting, and prepared to fit an outhaul 16.1

Spinnaker pole

Carbon spinnaker pole with Hall terminals.

Tuff Luff

Genoa Tuff-Luff.

Spars and rigging notes

Backstay in PBO Back-Stay fast system (Frederiksen) Internal tube for cables inside mast Integral mainsail groove in mast Spinnaker pole track mounted on front harken or similar 2 genoa sheets.spectra (2 G-lock),2 spinnaker sheets(spectra),2 foreguy (spectra), 1 mainsheet (spectra), 2 genoa sheet car pullers(spectra), 2 barbers genoa (spectra), 2 barbers spi (spectra) cunningham, Vang control lines(spectra), backstay control with magic wheel and outhaul 16:1
DECK EQUIPMENT
Deck hardware

DECK GEAR (Harken-spinlock) Backstay adjustable by a GRP wheel and 2 block cascade system Harken

Winches

2 X HARKEN 53 Winches self tailing 2 SPEED for mainsail 2 X HARKEN 48 Winches self tailing 3 SPEED for genoa 2 X HARKEN 45 Winches self tailing 2 SPEED RACING with double drum for halyards. 3 single handles with lock 10" and one 8"

Deck equipment notes

The deck is a sandwich construction using EPOXY, E glass and pvc foam of 80kg/m3 with local reinforcements of 200kg/m3, laminated with a vacuum bag process. The deck is finished in isothalic gelcoat with a moulded antislip in the necessary areas. The deck has a moulded headliner to meet IMS requirements. The deck has moulded recesses for hatches, port lights, mast collar, deck organisers and winches. The mainsheet system is moulded under deck.
SAFETY EQUIPMENT
Safety equipment notes

1 Manual pump in the cockpit 1Manual pump in the aft cabin 10 life jackets. 10 harnasses 2 Torches spare light bulb. 1 wires cutter. BENGAL Kit category 2
CONSTRUCTION
Construction notes

Hull is laminated as solid single skin in a female mould using, isothalic gelcoat E glass (both unidirectional and multiaxial) and epoxy resin. The hull is post-cured until 70°c. The hull reinforcement consists of longitudinal and transversal frames; constructed in pvc foam and Carbon fiber biaxial and uni fibres (reinforced in certain areas with unidirectional carbon fibre); which are laminated to the hull using a vacuum bag process. Bulkheads are also laminated to the hull using vacuum bag process. Waterline is marked on the hull. A steel framework is used as reinforcement to attach the keel to the hull. KEEL The complete keel structure is made in England by HENRY IRONS. The keel has a 25 mm top plate of stainless steel which is attached with 14 bolts of 24mm diameter. The upper part of the fin is made using lead/antominium. The keel is made to precise IMS designs and is finished with an epoxy primer. A specific keel to level boat stability while in the water. RUDDER The rudder blade in pvc foam, E-glass and EPOXY is laminated using a vacuum bag process with finish in isothalic gel coat. The stock is made in anodised aluminium. STEERING SYSTEM Carbon steering wheel diameter 188 cm attached to composite pedestal with steering well in cockpit sole. Cables pass through light weight sheaves to quadrant. Rudder bearings and quadrant are Jefa.