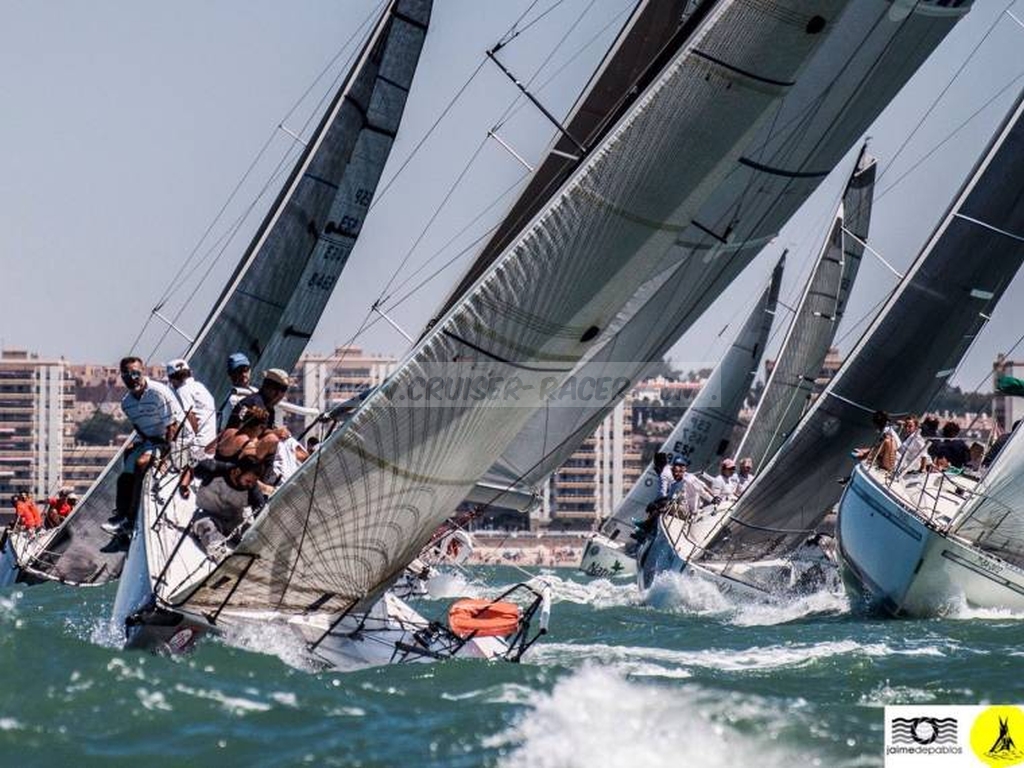 GENERAL
Name

Mumm 30 OjoPiojo
Model

Mumm 30

Year

1998

Hull material

GRP

Located

Huelva

Price

30500

€

VAT

PAID

Flag

Española

Type

RACER-CRUISER

Slogan

Offshore one-design fast and exciting,

Description

Designer Comments Our goal in developing the Farr 30 was to create a state-of-the-art offshore one-design that would be fast and exciting, yet uncomplicated and economical. We set about the design of the Farr 30 with a "clean sheet of paper" in that there are no rating rule driven compromises in performance. Our experience in Whitbread 60's and American's Cup boats gave us confidence that incredible light air speed does not necessarily require large overlapping jibs. Fractional rigs are preferred over mast head rigs for upwind performance and easy handling, but with no arbitrary rule restrictions, masthead spinnakers will turbo-charge the boat downwind. The symmetrical vs. asymmetrical spinnaker debate is a non-issue. Each has its advantages and place, so we have allowed for both, making the Farr 30 today's most versatile downwind boat.
DESIGN
Designer

Farr

Shipyard

Ovington Marine

Design notes

During design conferences, we applied a simple test for complex issues, "will this detail or feature make the boat more fun to sail?" Time and again, we found that the simplest solution was the best one. For example, there are no running backstays. The extra crewman needed for runners, and the chance of losing the rig if the runners aren't set up properly, are eliminated. The boat has a very high righting moment because high stability means speed upwind, and a boat that is easier to get in the groove. In order to achieve high stability with a minimum amount of weight and drag, we have developed a keel that is reminiscent of our Whitbread 60 designs. A large lead bulb is supported by a cast steel fin which produces a reliable, durable structure with maximum righting moment. High stability also means less need for a lot of people on the rail. The non-overlapping headsails mean that the winches are tiny, and dexterity takes precedence over power: smaller crew, and smaller sail budgets!
DIMENSIONS
LOA

9.00

m

Beam

3.07

m

Draft

2.10

m

Ballast

950

kg

Displacement

2063

kg

Dimensions notes

It has been optimized by Farr Design. More ballast an a bowsprit
ENGINES
Engines

Yanmar 1GM10 9CV

Engines notes

New Engine from 2013
ACCOMMODATIONS
Berths number

4

Cabins number

1

Shower

No
SPARS & RIGGING
Sails

5 Spy's - 4 Light NorthSail( 2 good conditions, 2 medium) - 1 Heavy 1 Assymetric (Very good condition) Main -Regatta North Pentex 2014 (Very good condition) -Transport Dacron 2015 (Very good condition) Jibs - 2 Light (Good Condition) - 1 Medium (Good Condition) - 1 Solent Norht Pentex (Good Condition) - 5 additional Jibs for transportation, sailing and training

Rigging

Rod

Mast

Carbon

Boom

Aluminium

Spinnaker pole

Carbon