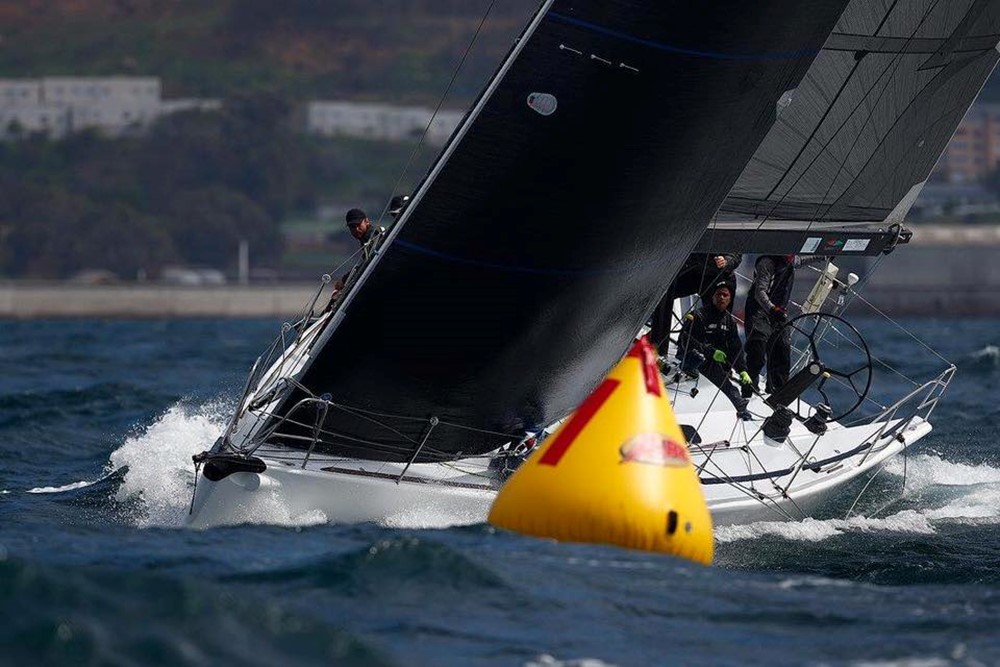 GENERAL
Name

Landmark 43 - Windpower
Model

Landmark 43

Year

2009

Hull material

GRP

Sail number

SA

Color hull

White

Located

Sudafrica

Price

PRICE AT REQUEST

VAT

NOT PAID

Flag

Sudafrica

Type

CRUISER-RACER

Slogan

ORC & IRC winner boat

Description

This Mark Mills designed Landmark 43 has been making waves since its launch in 2009, debuting with a second place in the 2009 IRC Championships and a win in the 2010 Champs and a 2nd place finish in the 2011 IRC Champs. She has been professionally maintained and is constantly race ready. She is fitted with a Carbon Rig, B&G Instruments, Lewmar Winches and an extensive North Sails Racing wardrobe including 2 full suits for either Club or Regatta racing. The regatta suit features all top GP products with 3Di Main and headsails.
DESIGN
Builder

Premier Composite Technologies

Designer

Mark Mills
DIMENSIONS
LOA

13.00

m

LWL

11.26

m

Beam

3.83

m

Draft

2.7

m

Ballast

4360

kg

Displacement

8050

kg

Dimensions notes

.- I : 17.35 m .- ISP : 19.00 m .- J : 4.80 m .- P : 17.35 m .- E : 6.15 m
ENGINES
Engines

Volvo 40 Hp

Propeller

420 x 340 Two Blade Folding Propeller
TANKS
Fuel

170

l

Water

340

l

Holding

50

l
ACCOMMODATIONS
Cabins number

3

Shower

Yes
GALLEY
Galley notes

The galley is equipped with a double S/S sink, two burner gimballed stove with oven, fridge and dry goods storage lockers.
ELECTRICAL
Batteries

2

Battery charger

Yes

Electrical notes

Batteries consist of one 60A/hr Engine Battery and 2 x 120A/hr deep cycle AGM house batteries. There is a custom DC panel with circuit breakers at the Nav Station. Both interior and Navigation lights are in LED. There is a 220V shore power plug in and a battery charger.
SPARS & RIGGING
Sails

1.- MAIN 1.1.- September 2018 GPL Carbon Main 1.2.- Jan 2016 3Di 780 m RAW (Carbon/Spectra) 1.3.- Dec 2011 - 3Di 870 Carbon/Spectra large head 1.4.- 2009 - Carbon-Aramid panelled (cruising and club) and 3DL 2.- JIB 2.1.- Sept 2018: GPL Carbon J2 and J3 2.2.- Sep 2016: 3Di 780m RAW 2.3.- Jan 2016: Light-Medium 780m RAW 2.4.- Sept 2015: 3Di 780 J3 2.5.- Aug 2013: Paneled Carbon/Aramid J2 used for Club Races 2.6.- Dec 2011 - 3DL 800 Carbon Light/Medium J1 2.7.- Dec 2011 - 3Di 870 Carbon/Spectra J2 2.8.- 2009 – Panelled Carbon/Aramid J3 and J4 used for Club racing 3- SPINNAKERS 3.1.- 2015 Feb - S4 Spinnaker and A3 Asymm 3.2.- 2014 - S4 Spinnaker and A3 Asymm 3.3.- 2013 – Code 1.5A (.5oz) and Code 2S (.5oz) 3.4.- 2010 – Code 2S (0.6oz), Code 4S (1.5/0.9oz) 3.5.-2009 - Code 0 Mylar + Kevlar, Code 1.5A (0.5oz), Code 3A (0.9oz) 3.6.-Code 2S (0.8oz), Code 4S (1.5oz) Frac 3.7.- Designed to fly off Sprit: Code 2A 180 sq m all purpose Club and Cruising 4.- STAYSAIL 4.1.- 2012 - SS and GS 5.- OTHER 5.1.-.-Storm sails (with orange corners): Strom Jib and Trisail Rig sizes: I = 17.35 ISP = 19 J = 4.8 P = 17.35 E = 6.15 STL = 6.95 SPL = 5.2 Frac ISP = 17.35

Spars and rigging notes

The swept 2-spreader carbon rig from Southern Spars finished in flat black Awlgrip is the preferred rig geometry for IRC and in addition offers performance, handling and rating benefits. The Rig is currently set with a 2° aft rake and has a Power Team 10 ton Mast Jack. The boom, like the rig, is in Modulus Carbon Fibre. Carbon when used in spars is treated fairly in IRC for boats above 40' and in addition when using carbon this is also advantageous in its reduction of the overall VCG of the yacht. The Mainsheet System is the well tried and tested and highly popular AC German Style with an under deck return to the winches making for a clean and tidy deck. The Spinnaker Pole and Bow Prod are also in carbon fibre. The Standing Rigging is Nitronic Rod with a Kevlar Backstay and 12V Fleet-Hydrol backstay hydraulic cylinder. The Forestay is a Harken Tuff Luff foil. 2 full suits of each sail for Club or Regatta racing Designed to fly off spinnaker pole: Masthead Asymmetrics for light VMG and heavy reaching, Masthead Symmetricals for running medium and heavy. Heavy air fractional.
DECK EQUIPMENT
Deck equipment notes

The winches are by Lewmar with 60R Primaries and 54 AST for the Coachroof and Mainsheet Winches. Main, Jib and Spinnaker systems are all Harken with Spinlock Clutches holding the mast and boom lines when not winch loaded. The deck design maintains a harmonious balance between a large coachroof for maximum volume below decks and an expansive cockpit for easy passing traffic during race manoeuvres. In cruise mode, the main cockpit area has seats and coamings which provide a comfortable enclosed safe place, in the middle of which is an enclosed liferaft locker for swift and easy deployment. Unlike may race boats, Mills design team has thought this one through when it came to the positioning of the mainsheet traveller, which being on the aft deck is removed from the helm and wheel pedestals for 100% safety during those big downwind gybes. The twin wheel set up offers the best racing position for the helmsman. The coachroof design optimized the jib sheeting angles and has a jib in-hauler system for perfect light airs trim. Standard layout forward and alongside the companionway hatch features the two secondary/halyard winches with banks of Spinlock Rope Clutches fitted forward of these.
CONSTRUCTION
Keel

Cast iron with a lead bulb